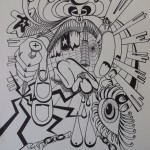 When in doubt, just leave it out. This is the motto of Texas artist, Lynn Burton. He likes to tell the story of how "back in the day" he had a Poloroid instant camera and used black and white film. He did this for many of his art pieces as a reference. He said it taught him how to bring out the focal point of his paintings with greater clarity. "Color isn't always the answer to a composition…value is!" He often states. He points out that the black and white contrast helps simplify the problem.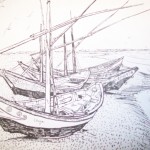 When you think about it, it makes sense. This is the reason the great artists of the past used the technique of drawing black and white charcoal, ink, or graphite studies before attempting to paint the composition in color. It was a matter of getting the value right. Also, what to put in and what to leave out. In other words, if in doubt, leave it out.
Many artists have had discussions (sometimes heated) whether an artist should use cameras for their artistic works. Of course, by now, the conflict is settled. The majority of artists feel anything it takes to bring forward ones talent to the their own personal satisfaction is acceptable by the majority. As an artist, I do both. Often, I sketch from the natural scene while also taking photographs. I also will print the photographs, cut them in segments, rearrange them to my liking, and make even more sketches before attempting to paint. When it comes to people, I do a good amount of photographing. One of my favorite models is myself.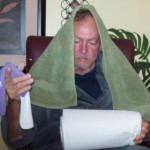 For example, here is a photo of me posing for my graphite drawing of one of my "Father Time Series."  I've always been fascinated with depictions of the Grim Reaper.
If nothing else, it's fun. and that's all that really matters…right?
Below is the color depiction of Lynn Burton's Whas…it? composition. Those of us that know Lynn know that half of his efforts are dead serious, and the other half is all fun, craziness, and "that's what it's all about baaaabyyyy! Yeah! I think it was one of these moments that gripped his enormous talents when composing this work of art.