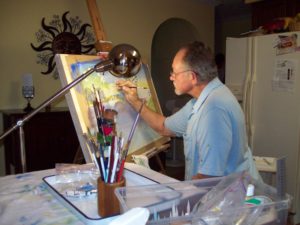 Art takes much more than paint, brushes, and substrates. I usually paint the composition constantly in my mind, letting it mull over, before pencil or paint sketching. I then attempt pencil sketching the first composition, and as usual, it doesn't work. Then I play with it…not too much…I don't want to overdo it. I trust my mind composition enough to know something is there, it probably just needs a few edges smoothed out. I tell myself this, and then I go about trying to work out color sketches. While playing with color ideas, I usually do a graphite full size drawing to make sure the composition and value are correct. This was the case of  "Down Wind Wait," a composition of an Indian with his Wolf companion waiting for deer upwind from them.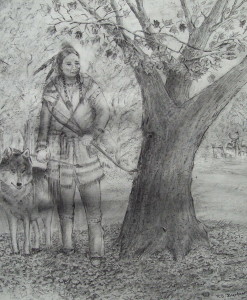 I'd decided before I painted the picture of "Agonizing Spirit/Trail of Tears", I should do a little more studying of the clothing and weaponry of the late 1830s Cherokee Indians. However, with my passion for history, I became engrossed with the internet articles about the Cherokees. I downloaded many articles of clothing, symbols, jewelry (and etcetera) used at the time. Slowly, I was building a world from the past. Yes, sometimes an artist wishes to be an emotional part of his painting. Vicariously become part of that which he is painting. Some of us think of this as being in the ZONE.
Also, before attempting to paint "Agonizing Spirit/ Trail of Tears", I decided to look inside the drawing and find other possibilities of compositions. If I could, it could increase the total worth by making a great many drawings and paintings.  It would also give me a great amount of experience painting different compositions of Indians in different settings that could only help me for my final painting. All in all, it could only be a great experience that would challenge me for several months. Ah! What a life, huh?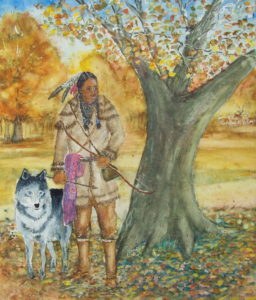 But this painting took a lot more than paint, brushes, and substrates. It took a lot of study, downloads from the internet, thinking, making and correcting several mistakes, including ruining a couple of attempted paintings and throwing them away and starting over after doing all the creative things I could do to correct them. So the painting at the left is painting #3. It is 14″X17″, and I find it acceptable and pleasing.
As many artists know, watercolor paintings are very unforgiving. For this reason, I like to use Arches 300 because it can take a lot of scrubbing, nibbing, correcting, painting over. However, if it goes dirty then all the creative "artist tricks" in the world will make it scream: "Throw me away and start over!" Believe me, the first two paintings that I threw away screamed this loud and clear. However, in this final work, I kept the touch of the brush to any particular area painting to no more than three times. It turned out very clean, which was one of my main goals.
Below, I am showing a picture of just a few of the many drawings, paint sketches, downloads, books, and other things that cluttered my studio as I had a whim to embrace to make this simple painting.
Join our newsletter (above at the right) and be in a drawing for a beautiful art book (only in states that allow this).
Be sure to visit the galleries above to visit my family art works, my brother Texas Artist Lynn Burton has his own gallery, but it expands if you visit his site by clicking here and typing his name in the search engine http://fineartamerica.com/