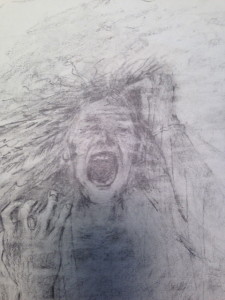 I have always been a fan of Western and Southwestern art. Having been raised in New Mexico, cowboys and Indians were a tradition.  If I recall correctly, they didn't take the hitching rails out of downtown Carlsbad until I was five or six years old. As a wee small child, I would stand on the steps of the church I attended on Sunday mornings and watch the cowboys ride down the foothills on horseback on their way to church. They rode along side an old flatbed truck transporting their wives and children who sat on seat benches screwed to the truck's bed.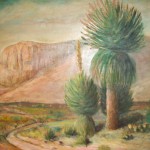 My father, Arlen Burton, painted one of my favorite Southwestern landscape scenes showing the Indian chief, Sitting Bull's, favorite mountain to send smoke signals to his warriors. There is a water fall in the mountains called Sitting Bull Falls.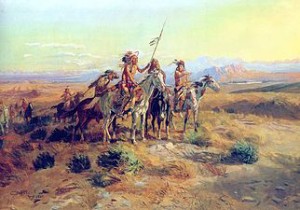 As a teenager, I discovered two Western artists that I became enamored with by their works. One was Charles Marion Russell (also known as C. M. Russell, Charlie Russell, and "Kid Russell").  The other was Frederic Sackrider Remington.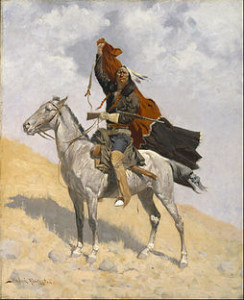 Both of these men were born in the 1860s and lived into the first quarter of the 20th century. Their art specifically concentrated on the last quarter of the 19-century American West. What a marvelous time to be an artist, sculptor, and writer in the old West!
C. M. Russell was a very prolific artist, creating more than 2000 paintings of cowboys, Indians, and landscapes set in Western United States and Alberta, Canada. His painting Piegans sold for 5.6 million dollars at an auction in 2005, and his mural titled Lewis and Clark Meeting the Flathead Indians hangs in the state capitol building in Helena Montana.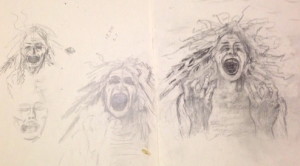 I woke up the other morning around three o'clock from a nagging dream. I lay awake for over two hours concentrating on the dream. It was about a painting of Indians during a period of great travail. A painting I will attempt to paint. I fell back asleep and slept for a couple of more hours, but when I awakened I grabbed a couple of pencils and began to doodle, ultimately sketching the drawing at the top of this page. This is just a small part of the painting I saw in my dream.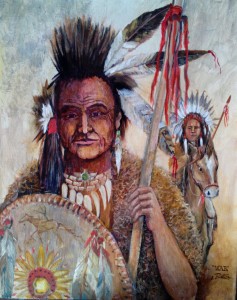 Probably, I had this compelling dream because my brother, Lynn Burton, sent me several pieces of his Western Art. Lynn is one of my favorite artist (okay, I confess to being prejudice). Lynn's art is represented on a the Fine Art America website, and you can shop or purchase prints and original art. All you need to do if you are interested is click on the painting to the right. It will take you to the Fine Art America web sight. When you are in the sights, type Lynn Burton into the search at the top of the page, and it will take you to his paintings. Shop and enjoy.
Be sure to join our newsletter. The winner of the drawing for the beautiful art book will be given away on March 1st, 2016. The winner's initials (for privacy purposes) will be announced in March's Newsletter.
Please visit our galleries at the top of the page.