As an artist, if you have a painting that you've been working on, and you realize it's working the way you imagined, try leaving it alone. It may be finished. Although it may be impressionistic, and in an early stage at this point, it may be your best work to date. Think about it; sit on the painting for awhile, and see if you don't end up calling it finished, and proud to do so.
Your paintings should be an expression of how and what you think and how and what you feel. Carefully, go through the process necessary to decide if you have accomplished what you imagined, and ask, "Will this picture stop the viewers in their tracks?" In other words paint a picture that impresses the viewers.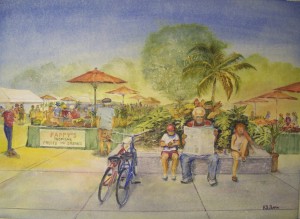 If you're not sure you've accomplished everything you wanted to in the painting, then do what I call the five finishing tips.
Have you said what you are trying to say?
Did you create an impact area?
Does your picture have depth (changing values)?
Are colors bright and expressive?
Are the shapes in the painting interesting?
You can make up your own points to help you know when to stop painting and call it a completed work, but don't over complicate it. When in doubt, mat it…frame it…sell it…and go on to the next one.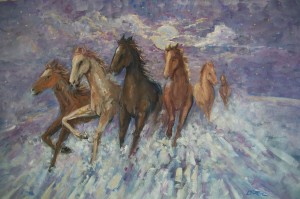 A note about technique: Many inexperienced artists will argue that to produce a good painting their primary need is to master technique. Technique is important; however, I feel it takes more than technique to achieve artistic results.
Unless an artists has a great many completed works and art experiments behind them, I suggest some planning be completed before attempting a painting. Relate to the work you're starting with to other works you've done before, or if you have nothing of your own to relate to, then relate to the works of other artists. The relationship with other paintings acts as a guide for compositions. With practice you will learn to control the process, and the end result will not only be clearly defined, but quite often impressive.