In 1909, Frederic Church's painting, The Heart of the Andes, sold to Margaret Dows, widow of David Dows, for $10,000.00.  At that time it was the highest amount ever paid a living American artist.
In 1859, Church introduced the huge painting (661/8″X1191/4″) at the Tenth Street Studio in New York City.  The art work was a spectacular display with the fan fare of a world event, having a significant effect on its viewers.  Both men and women succumbed to what they described as a dizziness when viewing it, feeling a sense of vertigo that some described as almost sublime.  It was said that it was so overwhelming that many women were prone to fainting.
Mark Twain in a description of the painting, said:  You'll never get tired of looking at the picture, but your reflections-your efforts to grasp an intelligible Something-you hardly know what-will grow so painful that you'll have to go away from the thing, in order to obtain relief.  It is in my mind now- that the smallest feature could not be removed without my detecting it.
Between the time of the first showing and fifty years later when sold to Margeret Dows, the painting traveled and was exhibited throughout the United States and Europe.  In many cases, there was a cost of 25cents for the public to view the art work.  Upon her death in February 1909, Margeret Dows bequeathed it to the Metropolitan Museum of Art.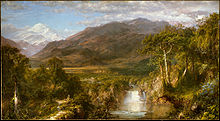 Church was a well off student of Thomas Cole, the founder of the Hudson River School of landscape painters (see previous blog post).  As many of the colleagues of the school were, he was concerned with including a spiritual dimension in his art works.
From spring to autumn of each year the artist would travel and sketch, usually walking.  It was as though he was gobbling up the world.  In the winter, he would return to paint and sell his works.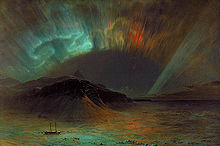 Church drew and sketched in oil everything in his path-trees, rocks, flowers, mountains, clouds, waterfalls, icebergs- as he traveled the Hemispheres from the Catskills to Connecticut , Maine, South America, Labrador, Jamaica, Europe, and the Near East.
I personally am attracted to the color work in Aurora Borealis (pictured at the left), another large oil on canvas (561/2″X831/2″).